Advantages of Solid State Relay (SSR) Switching:
No Moving Parts

: SSRs have no moving components, resulting in no mechanical wear, operational noise, or mechanical failures, thus ensuring high reliability.

Arc-Free

: SSRs do not have arc-producing contacts, eliminating contact sparking, arcing, and contact bouncing, which reduces external interference.

Fast Switching

: SSRs offer rapid switching capabilities, with zero-crossing SSRs having a working cycle of less than 10ms, and random SSRs operating at the microsecond level.

High Sensitivity

: SSRs are highly sensitive and require minimal control power, making them compatible with TTL and CMOS circuits.

Sealed Design

: SSRs are encapsulated with insulation materials, providing excellent moisture, mold, and corrosion resistance. They also exhibit exceptional explosion-proof properties.

Longevity

: The use of semiconductor components as the switching mechanism results in significantly longer lifespans compared to traditional mechanical relays, with SSRs lasting up to 100 times longer.
Plug in Solid State Relays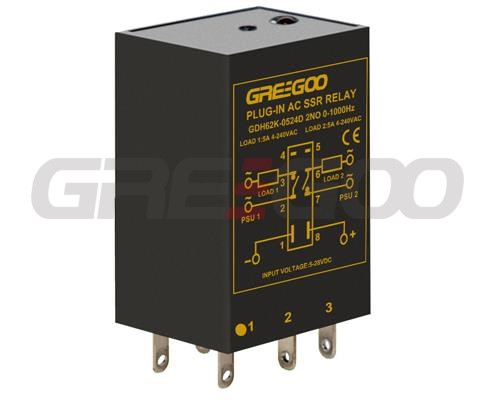 1,3,5,8,12A, 5-28VDC or 9-24VAC input, 4-240VAC or 24-440VAC output plug in SSR relays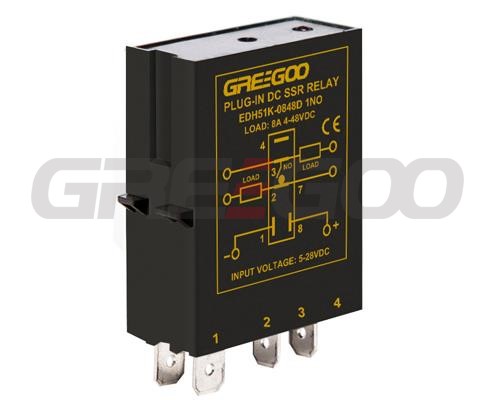 4-400VDC, 1 to 12A, Ac to Dc control DC load PLUG-IN Solid State Relays
Three Phase Solid State Relays
Single Phase Solid State Relays
DC to dc Solid State Relay SSR
Solid state control relays
Din-rail mount SSR relays
Multi-output solid state relays
Motor reversing solid state relays
Heatsink for solid state relays