DC charging and discharging Solid State Relays
Feature
Optical and magnetic isolation between input and output circuits.

LED indicator to show the operational status.

The output terminal consists of a group of normally open solid-state switches capable of bidirectional DC switching without contact.

Individual solid-state switches can be used for charging and discharging batteries and capacitors.

The GZ10SL model has automatic protection functions for overcurrent and short circuits.

It is packaged in a solid enclosure, resistant to corrosion and shock, ensuring stable and reliable operation.

This product is used for DC charging and discharging switches in electric vehicles or battery power supplies.
Model

GZ10S

GZ10SL




Input

Control Voltage

12~15 VDC 18~36 VDC

Control Current

≤80 mA

Start Current

≥ 60 mA

Turn off Voltage

12~15VDC≤10VDC 18~36VDC≤12VDC

Output

Switching On/off time

≤ 0.35 mS

Max. Voltage

60V、 100V、 200V

600V、 1200V

Max. Current

30~400A

30~300A

On state voltage drop

≤0.5V、≤0.8V、≤1.5V

≤ 4.2V、 ≤5.0V

Off state voltage

60V、 100V、 200V

600V、 1200V

Protection

No

50% of the rated current

Performance

Parameters

Isolation Voltage

≥ 2000 V

Insulation Voltage

≥ 2500 V

Temperature Range

-30 ~ 75 ℃

Power frequency

10-1000 HZ

Heatsink

Install a heat sink with a fan

Load tips

For resistive loads, use 2-3 times the rated value.

For inductive loads, use 3-4 times the rated value.

Dimensions

95×39×40(M-2D) 120×52×32(M-3)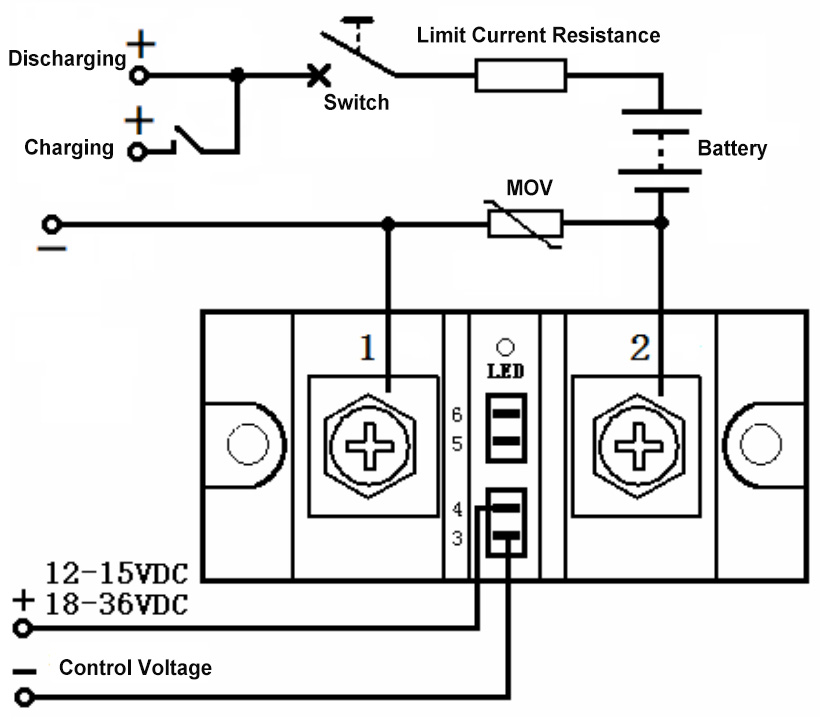 Product selection considerations:
- Allow for different margins in current rating based on the nature of the load. (For resistive loads, choose 2-3 times the load current. For inductive or capacitive loads, choose 3-4 times the load current.)
- The actual load current is greatly influenced by the ambient temperature. When the ambient temperature is high or the heat dissipation conditions are poor, increase the current capacity. To prevent short circuits in the load circuit during use, overload protection should be added. For specifications above 600V, GZ10SL current-protected solid-state relays can be used as an option.
- To prevent the generation of inductive counter electromotive force due to long output power lines, overvoltage protectors should be connected in parallel at the output end to protect the solid-state switch from damage during overvoltage. The selection of metal oxide varistors (MOV): choose a value of 80% of the rated voltage of the solid-state relay.
- The contact surface between the matching heat sink and this product must be flat and smooth. Apply a layer of thermal conductive silicone grease on the surface. When fixing it, tighten the screws symmetrically with spring washers and flat washers to prevent loosening due to thermal expansion and contraction of the screws.
- Ensure that the screws are properly tightened to prevent loosening due to thermal expansion and contraction.